SIEMENS operator's control panel.
To place an order for equipment, please fill in the following form form
Human Machine Interface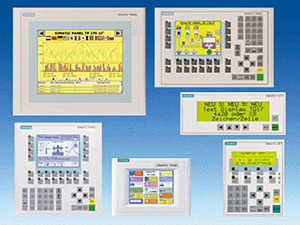 Along with SIMATIC HMI, Siemens A&D offers full line of products for wide range of on-line control and monitoring problems, and implements individual systems.
Owing to open, standardized interfaces of hardware and software, SIMATIC HMI products can be introduced into production and automation levels in the same manner as control level at any time. They can be attached to almost any PLC at the market and multilingual software in designing and display, which contain even ideographic languages and support worldwide usage.
High productive capability of enterprise
All operator's panels and panel PC are designed for severe industrial conditions. Redundant WinCC systems of process visualization ensure high performance of enterprise under normal operation. Process diagnostics with ProAgent from SIMATIC HMI offers you effective support with faults localization and correction and a considerable reduction of downtime periods. Moreover, special options of software, such as SIMATIC IT WinBDE, support preventive maintenance of plants and facilities.
Multi Panels under Windows CE combine advantages of two different directions: rigid structure and flexibility of operator's panel, typical for PC. Siemens, first manufacturer of this new devices class, represents multi-function platforms. Except for HMI standard functions, other automation tasks, for example, PLC functions can be jointly performed. For PC-based automation, SIMATIC Panel PC are compact automation platforms.
Industrial Computers, Panel PCs
Local on-line control and operation
SIMATIC Push Button Panels
Operator's panels for easy and direct control of plant.
details >>>


SIMATIC Micro Panels
Operator's panels for small plants and specially for SIMATIC S7-200.
details >>>


SIMATIC Mobile Panels
Mobile operator's panels for direct control of enterprise and plants from any place.
details >>>


SIMATIC Panels
Rigid and compact solution for using at plant - provides excellent productivity and user-friendly interface in the form of text displays, operator's and touchpads.
details >>>


SIMATIC Multi Panels
Multi-function platforms, which in addition to display also fulfill other automation tasks, for example, control functions.
details >>>


SIMATIC Panel PC
Industrial platforms for local PC-displaying or for fulfillment of numerous PC-based automation tasks.
details >>>


SIMATIC WinCC
Software with powerful HMI function package for ÐÑ graphic operator's panel, workstations on ÐÑ platform and servers. High functionality enables to design complex display systems. Additional options include maintenance, service and diagnostics through Web.
details >>>


SIMATIC WinCCflexible
New HMI software for all graphic operator's panels – starting from MicroPanels to PC platforms. Ideal for plants maintenance and displaying with fixed, mobile or distributed operator's panels. Additional options include maintenance, service and diagnostics through Web.
details >>>


SIMATIC ProTool ®
Universal integrated software under Windows for all operator's panels SIMATIC HMI.
details >>>


SIMATIC ProTool/Pro ®
Display software for operator's control and PC-based operation at the level of plant. Provides quick response and reliable operator's process control.
details >>>