"SR LTD" Company
Ukraine, Dnepropetrovsk,
Artema St. 19/61
Phone number:
+38(056) 370-28-43,
+38(056) 370-39-62
APCS OF CIRCULAR FURNACE
Automatic process control system of railway wheel blanks heating in circular furnaces No.1, 2 of rolling line at wheel-rolling shop NTRP OJSC.
Production facility description

Circular heating furnaces with diameter 30 m are intended for round bars heating for railway wheels production on the rolling line. Heating is carried out in two stages in the first furnace from 0°Ñ to 800°Ñ, in the second one from 800°Ñ to 1250°Ñ. 5-zone furnaces are heated with natural gas.
Furnace capacity is determined by the rolling line capacity.
Purpose and functions of ACS
Automatic process control system (APCS) of railway wheel blanks heating in circular furnaces with diameter 30 m on wheel rolling mill section is intended for selection and maintenance of optimal railway wheel blanks heating mode depending on wheels range and chemical composition of steel, and for quick notification of operating personnel of process modes and archivation of technological and energy consumption data.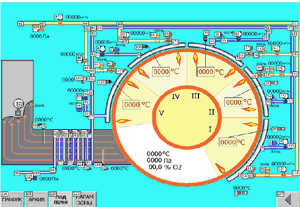 Automatic control system of circular furnaces in ring-rolling shop is represented by two hardware and software complexes for automation of the whole production process of blank parts heating, each of which consists of:
field control equipment (flow, pressure sensors, pyrometers, gas sensors);
master controller - SIMATIC S7-300 programmable controller;
standby controller - IM CPU on basis of ET 200S (hot standby);
main panel IL - 70;
small emergency operator's panel ÎÐ-3;
two remote operator's panels ÎÐ - 3 on loading and unloading stations of loading machines.
The system has the following capabilities:
blank parts weight measurement during putting into the furnace;
blank parts quantity measurement during putting into the furnace;
blank parts locating in furnaces and number of blank parts released;
blank parts temperature measurement on exit from the furnace;
entry and processing of group properties, such as batch number, cast number, range showings, method of putting into the furnace;
on-line computation and generation of optimal temperature settings (by criterion of power consumption minimization at preset output temperature parameters of blank parts) in furnace zones based on thermophysical process model;
on-line control of temperature in furnace zones, air-gas ratio with compensation by oxygen content in combustion gas, furnace pressure, general air pressure (by method of frequency regulation of pressure fans drives);
on-line automatic temperature control in furnace zones in non-steady processes, arising in case of change of furnaces operating mode;
process visualization, execution of report forms and flow and temperature register;
recording of gas flow by shifts, days, months, quarters;
emergency mode protection, autodiagnostics and testing;

possibility of maximum - minimum gas flow limitation by zones with preset values entered in screen forms, which obtains special relevance in connection with rising prices of energy resources;
regulator setting in screen forms by competent personnel (password protected option);
events history, enables to observe whatever took place in the furnace during two days in the form of diagrams;
recipes and operating modes system – "run", "standby", "empty furnace" - enable to select the required furnace operating mode in one-touch
The system is certified by State Dnepropetrovsk verification center.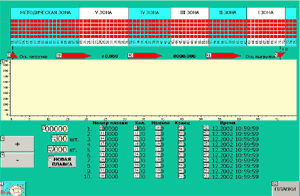 Results and adaptation effect
Due to using modern automation equipment and new technical solutions we succeeded to achieve stability of process modes - temperature differential in zones max 1.5 - 2°Ñ. Gas saving after adaptation made from 7 to 10%.