"SR LTD" Company
Ukraine, Dnepropetrovsk,
Artema St. 19/61
Phone number:
+38(056) 370-28-43,
+38(056) 370-39-62
SIEMENS PROGRAMMING TOOLS
To place an order for equipment, please fill in the following form form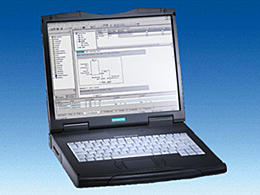 SIEMENS PROGRAMMING TOOLS
Metal case with increased resistance to electromagnetic influence, vibration and oscillation.
Extension handle for handling of programming tool.
Effective lithium-ion battery, providing durable off-line operation of programming tool.
Powerful lithium-ion battery (6.6 Ah) for provision of durable off-line operation of programming tool;
Easy replace of programming tool, placement under removable cover at the bottom of case.
Note:
Battery capacity reduces after each charge-discharge cycle or as a result of storage at extremely high or low temperature. This means that as time passes, off-line operation of programming tool reduces. At normal operation accumulator battery service life makes 6 months from the date of purchase of programming tool.
Replacing of accumulator battery by a new Siemens battery is recommended every 6 months of operation.
Technical characteristics of SIEMENS programming tool:

Motherboard with microprocessor Intel Pentium M of current version.
Random access memory with capacity 512 Mbyte or 1 GB.
Hard drive with capacity 60 or 80 GB.
3.5" drive 1.44 Mbyte.
DVD-ROM/CD-RW or DVD-R/RW.
15" TFT-display, resolution 1024õ768 or 1400õ1050 dpi, AGP-graphic, with dynamic video memory and external display connection port (1600õ1200 dpi, 75 Hz).
Ergonomic keyboard with laser key marking and precise touchpad.
Interface for memory cards, microcards programming, and EPROM-modules SIMATIC S5 (through the adapter).
One COM interface (V.24 and TTY) for communication with SIMATIC S5.
One MPI/PROFIBUS DP interface with maximum data transfer speed 12 Mbps for communication with SIMATIC S7 (CP 5611 - compatible).
4 USB- interfaces V2.0.
One Ethernet interface 10/100 Mbps for connection to local area network or Internet.
IWLAN Interface 2.4 or 5 GHz 802.11 à, b, c standard (not certified for use in Russia).
One PC card slot.
One parallel interface (ECC/ECP, 25-pole D-type socket connector).
16-bit sound card, two internal speakers, microphone and stereophonic socket telephone.
Delivery set / accessories
SIMATIC Field PG M programming tool.
Accumulator battery and AC-power adapter.
MPI-cable length 5 m for connection to SIMATIC S7.
Junction module for cables connection.
Operating system Windows 2000 or Windows XP Professional with backup compact disc.
Preinstalled SIMATIC software. Depending on order it can include the following:



STEP 7 Professional (STEP 7 + S7-SCL + S7-GRAPH + PLCSIM) + STEP 7 Micro/WIN + STEP 5
STEP 7 Professional (STEP 7 + S7-SCL + S7-GRAPH + PLCSIM) + STEP 7 Micro/WIN
STEP 7 + STEP 7 Micro/Win + STEP 5
STEP 7 + STEP 7 Micro/Win

Product information.
Compact disc with backup copies STEP 5, STEP 7, STEP 7-Micro/WIN-32, hardware drivers, electronic equipment guide book and programming tool software.
Compact disc with installed software image for quick system recovery.
Cable for power connection (national version).
Backpack for programming tool handling.
If preinstalled software pack includes STEP 5, then delivery set additionally includes the following:



connecting cable, length 5 m for connection to SIMATIC S5
adapter for EPROM-memory modules programming SIMATIC S5
When necessary, you can optionally order:
External color display, printer and connecting cables.
Additional SIMATIC software.
Ultraviolet data deletion unit from EPROM-memory modules S5.
RAM memory expansion modules.
Optical mouse with USB-interface.